As in-game purchases are controlled by 3rd party platforms (in this instance Facebook), for us to be able to see them and take action on them, we need for you to first 'dispute' the purchase via Facebook.
To do this, go to your Facebook news feed on a PC/Laptop and click the down-arrow at the top right of the page.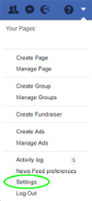 Then select > settings and > payments from the left hand side of the Account Settings page.

You'll then be shown all the transaction history of purchases you've made in Facebook.  Just click the one for the relevant game and you'll be able to 'dispute' it. An automated request is transferred from Facebook to King and we'll get your request.
Once we have this we can track your order. You'll also be given a 'comments' box to complete, so you can let us know whether you'd prefer a Refund or a Replacement of the missing items.